How to have a great time with your kids at the pool!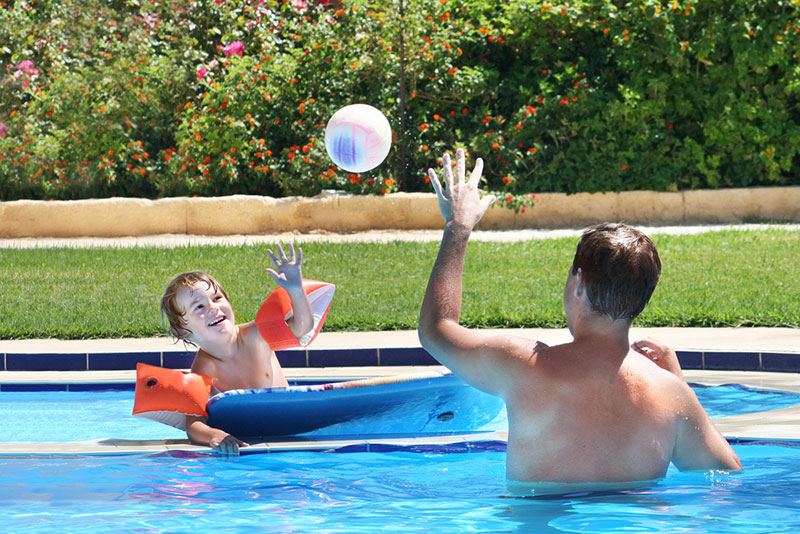 Going to the pool involves more than just swimming and splashing! For those moms and dads whose kids and teens are looking for new ways to enjoy at the pool,
here are 5 ways to make sure you don't go home without having spent an awesome time with your kids:
Scavenger Hunt: Get some random objects that you think can be easily seen under water. Place them at different places inside the pool. Tell the kids that the one who manages to collect the highest number of items will be the winner. You can also arrange some kind of reward for the winner to make the game more interesting. You can do the same with pool sticks to make sure the 'treasures' are clearly visible under water.
Pool Volleyball: You can play volleyball at parks, in your garden or in the backyard every day. But when you visit the pool with your kids, play volleyball with them and see how they enjoy this everyday sport in a new place!
Pool Party: Make sure you have some delicious and colourful smoothie for your kids to drink after they get tired from playing pool sports. Get inflatable pool couches or lounges so that you and your kids can relax while having chilled drinks on the water under the sun.
Mermaid Race: Some may also know this game as submarine race or dolphin race. If your child is a good swimmer, he and his friends can hold their breath and see how long they can swim underwater. This game can also be a good exercise for your child's lungs. Note that this game must only be attempted if the children are good and confident swimmers.
Invisi-bottle: This game is similar to scavenger hunt, except that the children have to find a water bottle inside the swimming pool which is almost invisible. This can be a fun and adventurous game to get your kids excited at the pool.
Aquaneo Store, offers you a variety of toys and games, and other necessary equipment like water testing kits, spare parts, cleaners etc. We ship all over .
---
Leave a comment
Related Articles
Organising a great pool party doesn't just involve acquiring party decors, sound system, chairs, tables, beverages and food items. Instea...
Here is a step by step pool party plan outline that will help you get rid of half the stress when it comes to party planning: &...